Issue 12, The Men Are Weeping In The Gym
On toxic masculinity, a guest post by Henry St Leger
Hey Friends,
I've had a few emotional months and its been a minute since I sent an issue out. I've been thinking about how much of the dysfunction around us can be attributed to the fact that it was built by and for men. Before you say 'Not all men', understand that by this sentiment I mean built by and for a culture of toxic masculinity.
For this issue, I asked poet, journalist and close friend Henry St Leger to write a guest post. I met Henry earlier this year and one of the first poems he shared with me was the one he wants to share with you today. His non-fiction writing has been featured in TechRadar, T3, Little White Lies, and CultureWhisper, with poetry bylines for Ambit, Agenda, Ladybeard, and Live Canon's International Poetry Prize anthology. You can follow him on Twitter.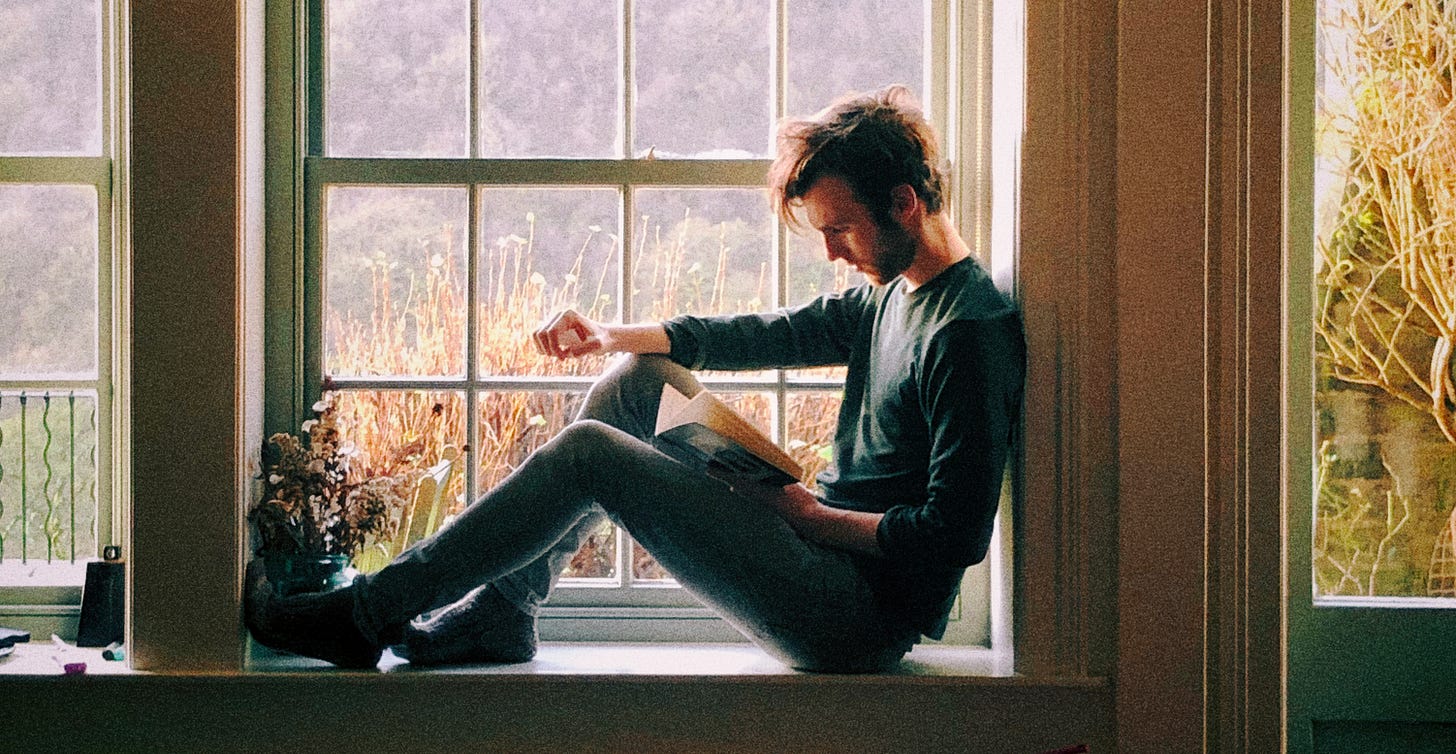 This is a topic that is close to his heart, and one he explores with a nuance unlike anything I've read before in his poetry as well.
I hope you enjoy reading and listening to him.
x
Sana
---
Audre Lorde, in her essay 'Poetry as a luxury', defined poetry as a form of "illumination, for it is through poetry that we give name to those ideas which are – until the poem – nameless and formless, about to be birthed, but already felt."
2020 has been a year of emotional upheaval across the world, and I've been finding a lot of things happening this year hard to talk about. Some of them are so obvious and global in their scale that chiming in feels pretty moot; others so individual that talking about them feels indulgent. Sometimes, though, we simply lack the language to do it all. 
Being English, white, and male I grew up with the cliche that men don't like talking about their feelings – when the painful truth underlying it is that many of us never find a way to learn in the first place. Disengaging from conversation can even feel revolutionary, of course, when it means leaving space for others in the public discourse. But it also limits the mending needed internally, within our masculinity: the soft discussions needed to balm long-untreated scars.
Poetry was the first place I found myself able to grapple with emotions that didn't come up at the dinner table, the classroom, the playground. I have had so many times where reading would give detail to the shape of something I couldn't articulate, filling in an outline, the precision and particularity of a succession of words or phrases acting to colour in a picture I'd only been able to vaguely sketch.
Trying to speak about our fear, our anger, our grief – when we have so little practice in doing so – is more pressing than ever. But we need templates for that discussion, and we need experience in a language that delves deeper than naming those emotions, and allows us to access them.
Today I want to share a startling poem I find myself going back to, by Andrew McMillan from his debut collection. Andrew's debut collection physical was the first ever poetry collection to win The Guardian First Book Award. The collection also won the Fenton Aldeburgh First Collection Prize, a Somerset Maugham Award (2016), an Eric Gregory Award (2016) and a Northern Writers' award (2014).
---
The Men Are Weeping In The Gym
by Andrew McMillan
the men are weeping in the gym 
using the hand dryer to cover 
their sobs    their hearts have grown too big 
for their chests    their chests have grown too big 
for their shirts    they are dressed like kids 
who have forgotten their games kit 
they are crying in the toilet 
and because they have built themselves 
as statues this must mean that God 
has entered them    they are wringing 
their faces like sweat towels 
in the sink    their veins are about 
to burst their banks    they are flooding 
out of themselves onto the tiles 
they have turned water into protein shakes 
they have got too close to the mirrors 
they have got too close to the glass 
and now they are laying 
in the broken pools of their own faces 
the lines of them!    at the decline press 
the bicep curl    waiting    staring 
straight ahead    swearing that the wetness 
on their cheeks is perspiration 
that the words they mutter as they lift 
are meaningless    that they feel 
nothing when the muscle tears itself 
from itself    that they don't hear 
the thousands of tiny fracturings 
needed to build something stronger
---
I've always found this poem astonishing in how openly it tackles male weakness, and the suppression of it; how sympathetically it paints the fitness routines through which men have "built themselves / as statues", claiming "the wetness / on their cheeks" as "perspiration", strengthening their outline to avoid addressing its contents.
It is the poem I revisit whenever I need to remind myself of that language, in order to learn it, in the hoping of using it elsewhere. It is, if only a single poem, still one of the "thousands of tiny fracturings / needed to build something stronger".
Henry